---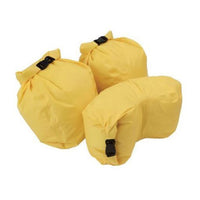 The Giant Loop Coyote Dry Pods are 100% Waterproof with RF welded seams and they upgrade Giant Loop's Coyote Saddlebag, protecting adventure riding gear inside from any moisture that penetrates the highly water-resistant outer shell. 
The air purge valves make it easy to compress gear by squeezing the air out of the sealed Coyote Saddlebag Dry Pods. 
This set is specifically designed to fit inside the two side pockets of the Coyote Saddlebag – or anywhere you need high-quality, lightweight dry storage.

Features of the Coyote Dry Pods

100% waterproof
RF welded seams
Easy-to-use air purge valves to ensure maximized use of space and easy-rolling convenience

Set of 3, shaped to fit inside the Coyote Saddlebag
 Check out other waterproof bags and all our luggage options.