---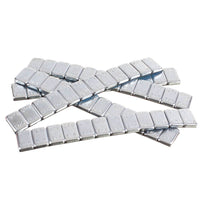 Wheel Weights / Stick on 5-gram strips allow you to balance your wheels easily with these narrow stick-on wheel weights. Sold per strip, each strip consists of 12 weights at 5 grams per weight. A lead weight that uses a 3M adhesive tape which will ensure a secure and stable fit to your wheel.
Balancing your wheels gives you better tyre life, more comfortable riding and helps prevent cracking plastics from vibration.


Check out all rim locks, wheel weights, tyre accessories, workshop maintenance and workshop tools.