---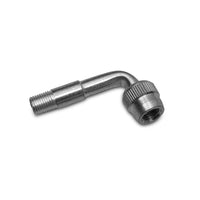 This 90° Schrader valve adapter enables easy access to motorcycle tyre valves.
With large diameter brake rotors on 17", 18" and 19" rims getting to the valve can be a mission, this adaptor simply makes the job easier.
It can be mounted on the valve permanently or if you have a pump it can be left on the end of the inflater hose for convenience.