---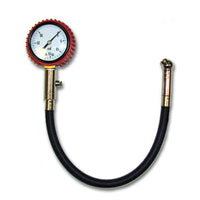 The X-Tech Tyre Pressure Gauge w/ Hose 0-30 psi is easy to use and accurate, with a 0-30 psi reading.
Tyre pressure is an integral component of your tyres obtaining optimum traction. When riding off-road ideally you want to run your tyres at the lowest pressure possible without causing a flat tyre, road riders refer to your tyres recommended pressure, the only way to accurately measure this is with a tyre pressure gauge.


Check out all tyre accessories, workshop maintenance and workshop tools.