---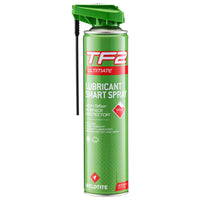 The TF2 Ultimate Smart Spray with Teflon features innovative Smart Head technology for accurate application of lubrication, reducing overspray for efficient lubrication of your bike's components. Weldtite TF2 Lubrication Spray is a great multi-purpose lubricant for your bike's moving parts. It's designed to reduce friction, prolonging the life of your bike's components. 
The Teflon coating of the spray is great for spraying on fork stanchions to help lube the fork seals, this helps to reduce seal sticktion.
Features of the TF2 Ultimate Smart Spray
Multi-use
Water-resistant
Efficient and quality lubrication
Reduces friction and wear


Check out all workshop maintenance and workshop tools.