---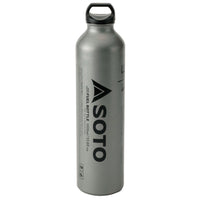 Use these bottles as a companion to the Muka Stove. The wide mouth is sized for the Muka Stove pump and makes pouring fuel in and cleaning up easy. Two sizes to choose from, each with a fuel level indicator so that you leave enough air to pressurise the gasoline.
Features:
Wide mouth makes it easy to pour fuel into and you can see the fuel level
Mark on outside shows how far to fill
Wide mouth also makes it easy to clean up
Capacity: 480ml gas (700ml), 720ml (1 Litre)
Dimensions: 7.4cm diameter x 22cm (700ml), 7.4cm diameter x 29cm (1 Litre), both have a 3.4cm mouth diameter
Average weight: 146g (700ml), 178g (1 Litre)
Check out all camping gear accessories and cookware...