---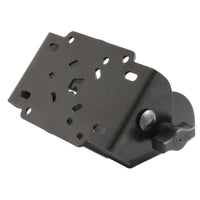 The RAM Tilt-N-Turn 90 degree Motion Attachment Bracket is a steel plate swing arm connector with a tilt range of 90 degree forward and back from the vertical position. The large range of tilt is designed to angle a connected RAM tablet or laptop cradle forward giving you a comfortable typing and viewing angle.
While ball and socket mounts are what made RAM famous, offering customers versatile choices is what RAM is truly all about. Swing arm systems are an integral part of many RAM kits and building on their functionality and performance is taken very seriously.
Tilt-N-Turn 90 Degree Bracket Hole Patterns
AMPS in Vertical Orientation
AMPS in Horizontal Orientation
75 x 75MM VESA
50 x 100MM
RAM Three hole at 120 degrees

View the RAM Tilt-N-Turn & Swing Arm Assembly Guide
Want to know more about how RAM Mounts work together? Have a look at our handy RAM Mount Guide.