---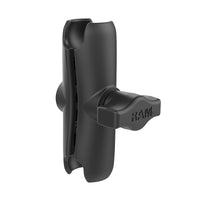 RAM Arm for 1" Bases (75mm). A single spring inside the arm opens the end sockets, allowing you to pivot the ball and socket connection. This socket technology allows for almost infinite adjustment and perfect viewing angles.
Want to know more about how RAM Mounts work together? Have a look at our handy RAM Mount Guide.
Check out all device mounts, navigation accessories, screen protectors and RAM products...