---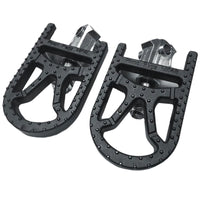 Pivot Pegz Mark 4 Toppers are designed as an easy solution to make the Pivot Pegz MK4 street-compatible. The unique, innovative design provides a wide flat foot platform and make a great addition to Pivot Pegz Mark 4 (sold separately). The Pivot Pegz Topper allows you to convert your off-road peg to a smoother road-worthy foundation.

Kit Contents = One left-hand Topper, one right-hand Topper, eight cable ties, Pivot Pegz Sticker and Instruction Sheet.
Features of the Pivot Pegz MK4 Toppers
Unique, innovative design
Proven performance
Wide flat platform
Opening design allows mud & dirt to pass through
Easy and quick to get on/off
Good grip
Reduced vibration
Extra comfort
Suits all MK4 Pivot Pegz
Not your average rubber insert!
Check out all the Pivot Pegz.