---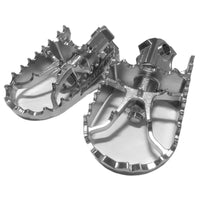 Pivot Pegz for Ducati are high-performance footpegs incorporating a unique and precisely tuned, spring-loaded pivoting action that allows the footpeg to pivot forward and backward and move with the natural motion of the rider's feet.
A computer designed spring holds the peg in its central (neutral) position and provides optimized resistance and shock absorption during the pivoting action.
When forward or aft pressure is applied, the peg pivots in a smooth and predictable manner. When pressure is released the peg instantly returns to its central position.
The spring-loaded action of Pivot Pegz also provides valuable force feedback to the rider and assists in returning their feet to the central position.
What's the difference between the Mark 3 and Mark 4 version?
The Mark 4 variant of the Pivot Pegz is wider than the previous version, with the platform measuring 60mm wide x 100mm long (overall approximate length from centre of the footpeg pin to the end of the peg is 120mm), whereas the previous version is 60mm wide x 85mm long.
Benefits of Pivot Pegz for Ducati
Enhanced bike feel
Better bike control
Smoother body weight transfer
Reduced body jarring
Better balance and traction
Reduced fatigue
Easier gear shifts and rear brake access
Extended boot life
Pivot Pegz for Ducati Features
Upgraded heavy-duty, long life springs

Unique multi-directional grip pattern
High grip tooth pattern
Outstanding build quality
Aerospace-grade stainless steel, double heat-treated and electro-polished
Made in Australia with a Lifetime warranty
Sold as a pair
Best aftermarket replacement foot peg option for your Ducati

Pivot Pegz for Ducati Will Fit the Following Bikes
PP-66, PP66
2018-2023 Multistrada 1260 S

2018-2023 Multistrada 1260 Enduro
2015-2023 Scrambler (includes Desert Sled)
2017-2023 Multistrada 950

2012-2017 Multistrada 1200, 1200S & 1200 Enduro
PP-66X, PP66X
Check out all the Pivot Pegz.