---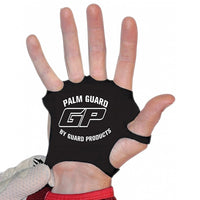 Motocross, Enduro and trail riders are all too familiar with blisters or sore hands, blisters can tear up the hands of even the strongest off road rider. Sore or blistered hands can make holding onto your handlebars a painful and sometimes dangerous experience due to loss of grip and control, not to mention the loss of enjoyment of your off road dirt bike ride time. 
Knowing the effects of blisters and sore hands, it was the goal of Guard Products engineers to develop a solution that offered full coverage protection to the areas of the hand most affected by intense friction, rubbing, heat and moisture.  To create the necessary protective armour, Guard Products  produced the 5 finger Palm Guard. 
Palm Guards also aid in reducing the dreaded "Arm Pump" & "Vibration" so if you are a 2 stroke or 4 stroke rider your bike will feel a lot smoother when using Palm Guards. 
Palm Guards are a very thin, protective layer offering full coverage protection of the palm as well as the saddle area between the index finger and thumb. Worn under normal standard size gloves, most off road dirt riders don't even notice ultra-thin Palm Guard under the gloves, but they do recognise the reduction in vibration and the much needed protection against blisters and sore hands.