---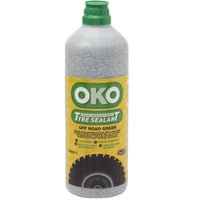 OKO Tyre Sealant - Off-road / Industrial Puncture-Free is the best off road tyre sealant you can buy.

Features of the OKO Tyre Sealant - Off-road / Industrial
1250ml bottle
Uses include trailers, wheelbarrows, golf buggies, ride-on mowers, mobility scooters and wheelchairs, small agricultural machines, fork lifts
Easy application; cap contains valve core remover and pouring tube
Can be used with tubeless tyres or inner tubes
Seals the hole in the tread area the moment the puncture happens
Designed for use in the harshest off-road environments
Lasts the legal life of the tyre
Deals with loss of air and provides a permanent seal to any hole in the tread area caused by puncturing objects with a diameter of up to 12mm (depending on tyre size)
Only 10-15 ml of OKO is used in making each seal
Remains inside the tyre even after multiple sealing events
Non Corrosive: Non Flammable: Non Hazardous
View the dosage calculator.

Check out all tyre accessories, workshop maintenance and workshop tools.