---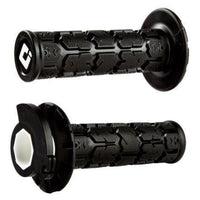 ODI MX Lock On grips Rogue. More grip to hold onto providing extra shock absorption and control!

ODI have redesigned the Lock On System to make it easier to install and provide more comfort. By eliminating the ouside clamp, they have made the NEW Lock-on system ideal for riders who prefer to ride on the outside edge of their grips. It's also ideal for riders who prefer rubber ends as opposed to end plugs. The heavy duty clamp on the inside of the clutch side is strong enough to hold your grip in place without any twisting or slipping.

Kit Includes:
Cams for both 2 & 4 stroke applications to fit most 125cc and up 2 strokes + most 250cc and up 4 strokes.

Features of the ODI MX Lock On Grips Rogue

Rugged surface pattern for better traction
Larger grip diameter delivers extra padding
Deep grooves to channel away dirt and debris
Extra large raised pads provide excellent shock absorption
**PLEASE REVIEW THE "APPLICATION GUIDE" TO ENSURE THE APPROPRIATE CAM IS INCLUDED FOR YOUR BIKE.**
Check out all our handlebar grips, cams and quick turn systems.