---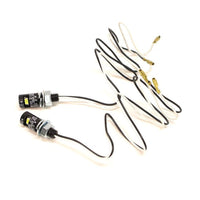 The Whites LED Number Plate Bolts are a pair of super bright and long-lasting number plate bolts with incorporated LEDs. Quick and easy to install, simply thread the wire through the bolt hole and screw the bolt in then secure the bolt with the included lock nut. The LED is constructed inside an aluminium casing that prevents water from entering the electric system while the aluminium design provides corrosion resistance. The 6mm bolt allows use with cars, trailers and motorcycles.
Super bright
Easy to install
Long-lasting
Low consumption
Direct bolt-on
Shock resistant
Machined alloy case
Waterproof
Voltage: 12V
Head Dimensions: 17mm x 12mm
Cable Length: 275mm
Thread Length: 16mm
Thread Diameter: 8mm
Colour: Black

Check out all our lights and indicators...