---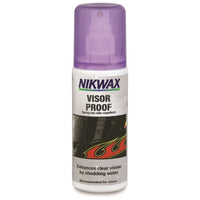 Nikwax Visor Proof Spray-on is a spray-on rain repellent for motorcycle visors and ski goggles that will help to clear rain / water and maintain clear vision in bad weather. It is easy and safe to apply.

Features of the Nikwax Visor Proof Spray-on
Enhances clear vision by shedding water
Easy to apply - can be used indoors unlike solvent sprays
WaterBased - environmentally friendly, biodegradable, non flammable, non hazardous
Does not contain fluorocarbons
125mls
How to use the Nikwax Visor Proof Spray-on
Remove surface dirt, insects etc with mild soap and rinse thoroughly with water
Shake well before use. From a distance of 15cm/6 inches, apply 2 squirts of Visor Proof onto the outside face of the visor
Wipe with a clean, fluff-free cloth in smooth even strokes across the outside of the visor
Rub vigorously from side to side to ensure even spread
Check out our riding gear accessory range, camping repairs / fixes, and tents.