---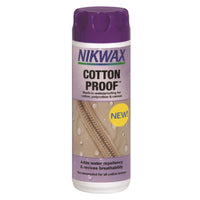 Nikwax Cotton Proof is an easy to use, safe, high performance, wash-in waterproofing for cotton, polycotton and canvas. It adds Durable Water Repellency; reducing weight gain and maintaining the breathability of cotton, polycotton and canvas, in wet weather. It comes in a 300ml bottle.

How Nikwax Cotton Proof works
Nikwax Cotton Proof has been specifically designed and optimised for breathable cotton, polycotton and canvas materials; it leaves a flexible water repellent treatment on individual fibres allowing moisture vapour to pass through, maintaining breathability, prolonging the life of gear and optimising performance in wet weather.

Nikwax Cotton Proof is easy and quick to apply in a washing machine and ensures that the treatment goes right through the garment. The highly Durable Water Repellency (DWR) of Nikwax Cotton Proof develops on air drying. Therefore the need for tumble drying is removed, saving energy.
Is Nikwax Cotton Proof safe to use?
Like all Nikwax products, Nikwax Cotton Proof is safe to use. Nikwax takes great care to minimise the effect of Nikwax products on the environment and on you, the consumer. Nikwax waterproofing products are WaterBased, non-aerosol, non-flammable, non-hazardous and environmentally friendly. They contain no harmful solvents or volatile organic compounds (VOCs), and are completely free of fluorocarbons (which have been shown to be persistent in the environment and have been associated with serious health issues).


Read about how to care for your waterproof clothing.
Check out our riding gear accessory range, camping repairs / fixes, and tents.