---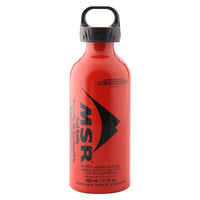 The MSR 325ml fuel bottle is designed specifically to accept the threads on MSR fuel pumps and to easily handle the pressurisation you need to efficiently operate MSR liquid fuel stoves. Now with child resistant cap.

Features of the MSR Fuel Bottle 325ml

Designed to work with all MSR liquid fuel stoves
Air-tight seal allows fuel to be stored longer by preventing air from entering and degrading fuel
A new child resistant safety cap design means direct vertical pressure must now be applied to release for opening to make it difficult for littlies to open the bottle
Made from single-piece, impact-extruded aluminum to prevent leaks and cracks
Bolstered shoulder and base to resist bulging when pressurised
Made From: Aluminium
Check out all camping gear accessories and cookware.