---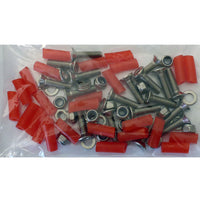 Mox Sprocket Service Kit contains everything you need to keep your Mox sprocket refreshed and running smoothly. The Mox sprocket is an awesome bolt-on sprocket with cush damping to reduce chain chatter. 
To keep your sprocket running smoothly we recommend checking the Urethane bushes every 5000kms and replacing if necessary.

Mox Sprocket Service Kit Includes

24 Urethane bushes
18 Stainless Steel cap screws
18 M5 Stainless Steel Washers
18 Stainless Steel Nylock nuts

Torque settings for the cap screw and nut is 5 Nm.
Check out all our Mox Sprockets, replacement parts and service kits.