---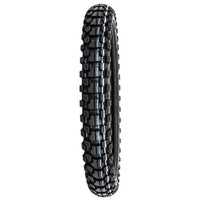 Motoz Tractionator Adventure 90/90-21 tyre is the ultimate adventure tyre capable of tackling all sorts of terrain around the world and lasting the distance. Excellent traction. Long mileage.
World Class Performance for the Serious Adventure Rider

Designed to handle the toughest terrain in Australia, USA, Baja and across the globe providing superior off-road traction and long mileage.
Stronger construction than most adventure tyres give world class off-road
performance with a high resistance to punctures.
Uniquely designed tread blocks self-protect for long life and self-sharpen for better traction through the life of the tyre.
Optimized hybrid natural / synthetic compound produces dependable grip in all weather extremes.
Superior block and profile design enables larger footprint providing superior off-road traction and hi speed cornering.
More tread depth than most adventure tyres for better traction in mud and snow.

Tyre 90/90-21 NEW Improved Motoz Tractionator Adventure Designed by off road riders, for off road riders, for serious off road traction.Technically 25% stronger than many other adventure tires. Deeper Tread than most adventure tires Tubeless.