---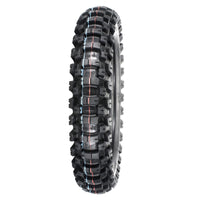 MotoZ TRACTIONATOR Enduro S/T 120/90-18 is an Enduro Tyre designed for maximum traction in extreme conditions such as mud and other soft terrain.
Application – Enduro Soft
10% Road – 90% Off-Road

Terrain Conditions.  20% Dry – 80% Wet;   30% Hard – 70% Soft

The MOTOZ Tractionator Enduro S/T (soft terrain) Tyre has been designed to give aggressive traction in soft terrain with longer wear than regular soft terrain tyres. It features a MX grip with Enduro strength and wear. Designed for riders who want the grip of an MX tyre and a tough carcass for off road with better resistance to punctures and pinch flats. Excellent for all weather in soft/varied applications.

The hybrid Natural/Synthetic compound is unique in its ability to give long wear in a soft terrain tyre, but good on road grip. MOTOZ Tractionator Enduro S/T tyre is of course also DOT and ECER75 Homologated* (some sizes also FIM homologated).

*only size 100/90-19 is NHS = Not for Highway Service

**140/80-18 FIM 2.15 inch rim is non-spec (use on 2.15 inch rims for FIM competition only).

***TESG140/80-18 FIM in Ultra Soft Gummy BFM compound, for extreme grip.

Features of the MotoZ Enduro S/T 120/90-18 Tyre

Longer wear than regular soft terrain tyres
Reversible
Hybrid Natural/Synthetic compound
Aggressive traction in soft terrain
DOT and ECER75 Homologated*