---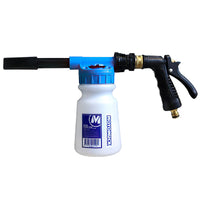 Motomuck Foam Gun attachment for Hose allows you to connect your hose to your Motomuck supply and more quickly and easily clean your bike!

This Hose connected Foam Gun is a great help for washing all your toys. It consists of a high quality hose connected trigger that is attached to a foam pot for your cleaning products.

This unit is made with high quality brass components and features a fully adjustable dilution valve on the foam pot.

Dilution ratios on dial are: 10:1, 20:1, 30:1, 100:1, 300:1
Features of the Motomuck Foam Gun attachment for Hose
Heavy Duty design, ideal for car, boat, truck, bike
Solid brass construction of body
Variable, adjustable spray nozzle for accurate mixing and foam generation
Fully adjustable dilution ratio
Capacity: 100ml bottle
Requires click on garden hose connector
Package Includes:

1 x Hose connected trigger
1 x Duckbill Nozzle
1 x Plastic 1L Bottle
1 x Adjustable dilution attachment
Check out all workshop maintenance and workshop tools.