---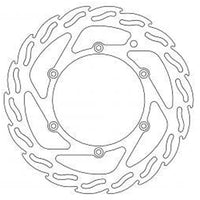 Moto Master Front Brake Disc 110623 (Beta)
See Fitment list below.
Features of the Moto Master Front Brake Disc 110623 (Beta)
DESIGN MEETS PERFORMANCE Next to the premium quality steel alloy which is used to give Moto-Master brake discs unsurpassed friction characteristics and durability, much of the superior performance of a Moto-Master Flame disc lies embedded within its unique FLAME design.
MAXIMUM CONTROL Flame-shaped venting slots and outer perimeter ensure an equal amount of contact surface between the brake pad and disc throughout the whole rotation of the disc. This results in smooth and more predictable braking action which allows you to brake harder.
OPTIMAL COOLING & REDUCED WEIGHT Flame-shaped venting slots are lined up in the linear direction of movement which allows oversize slots without them chipping away at the brake pads.
DISC & BRAKE PAD CLEANING The Flame shaped outer perimeter and venting slots overlap to continuously clean the whole brake pad contact surface while hot gasses are immediately evacuated.
REDUCED BRAKE PAD WEAR The Flame design ensures the brake pads are always evenly supported on the rotor surface. This prevents the pads from tilting under high pressure.
SUPERIOR DISC FINISH Specialized laser cutting technologies provide a razor-sharp cut that won't corrode. Disc thickness is parallel within a 0.003mm margin. This eliminates any possible brake lever pulsation while giving unsurpassed rider feedback. The Flame range is huge and covers everything from Motocross minibike to Dakar, and from Scooter to Superbike racing.

Road / Road Racing / Offroad / Rally / Supermoto / ATV
Check out all our brake pads, brake discs and brake accessories.
Fitment for the
Moto Master Front Brake Disc 110623 (Beta)


| | | | |
| --- | --- | --- | --- |
| Beta | 200RR | 2019 | 200 |
| Beta | 200RR | 2020 | 200 |
| Beta | 200RR | 2021 | 200 |
| Beta | 250RR | 2013 | 250 |
| Beta | 250RR | 2014 | 250 |
| Beta | 250RR | 2015 | 250 |
| Beta | 250RR | 2016 | 250 |
| Beta | 250RR | 2017 | 250 |
| Beta | 250RR | 2018 | 250 |
| Beta | 250RR | 2019 | 250 |
| Beta | 250RR | 2020 | 250 |
| Beta | 250RR | 2021 | 250 |
| Beta | 300RR | 2013 | 300 |
| Beta | 300RR | 2014 | 300 |
| Beta | 300RR | 2015 | 300 |
| Beta | 300RR | 2016 | 300 |
| Beta | 300RR | 2017 | 300 |
| Beta | 300RR | 2018 | 300 |
| Beta | 300RR | 2019 | 300 |
| Beta | 300RR | 2020 | 300 |
| Beta | 300RR | 2021 | 300 |
| Beta | 350RR | 2013 | 350 |
| Beta | 350RR | 2014 | 350 |
| Beta | 350RR | 2015 | 350 |
| Beta | 350RR | 2016 | 350 |
| Beta | 350RR | 2017 | 350 |
| Beta | 350RR | 2018 | 350 |
| Beta | 350RR | 2019 | 350 |
| Beta | 350RR | 2020 | 350 |
| Beta | 350RR | 2021 | 350 |
| Beta | 390RR | 2015 | 390 |
| Beta | 390RR | 2016 | 390 |
| Beta | 390RR | 2017 | 390 |
| Beta | 390RR | 2018 | 390 |
| Beta | 390RR | 2019 | 390 |
| Beta | 390RR | 2020 | 390 |
| Beta | 390RR | 2021 | 390 |
| Beta | 430RR | 2015 | 430 |
| Beta | 430RR | 2016 | 430 |
| Beta | 430RR | 2017 | 430 |
| Beta | 430RR | 2018 | 430 |
| Beta | 430RR | 2019 | 430 |
| Beta | 430RR | 2020 | 430 |
| Beta | 430RR | 2021 | 430 |
| Beta | 480RR | 2015 | 480 |
| Beta | 480RR | 2016 | 480 |
| Beta | 480RR | 2017 | 480 |
| Beta | 480RR | 2018 | 480 |
| Beta | 480RR | 2019 | 480 |
| Beta | 480RR | 2020 | 480 |
| Beta | 480RR | 2021 | 480 |
| Beta | Xtrainer 300 | 2015 | 300 |
| Beta | Xtrainer 300 | 2016 | 300 |
| Beta | Xtrainer 300 | 2017 | 300 |
| Beta | Xtrainer 300 | 2018 | 300 |
| Beta | Xtrainer 300 | 2019 | 300 |
| Beta | Xtrainer 300 | 2020 | 300 |
| Beta | Xtrainer 300 | 2021 | 300 |
| Beta | 400RR | 2013 | 400 |
| Beta | 400RR | 2014 | 400 |
| Beta | 450RR | 2013 | 450 |
| Beta | 450RR | 2014 | 450 |
| Beta | 498RR | 2013 | 498 |
| Beta | 498RR | 2014 | 498 |
| Beta | 125RR | 2018 | 125 |
| Beta | 125RR | 2019 | 125 |
| Beta | 125RR | 2020 | 125 |
| Beta | 125RR | 2021 | 125 |