---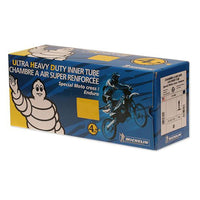 Featuring a 4 mm wall thickness, the Michelin Ultra Heavy-Duty inner tube is made specifically for those who push their tires to the absolute limits in the roughest of conditions. It also provides outstanding protection against punctures and pinch flats.
4.0 mm wall thickness.
Features an overlap splice which is stronger than the butt splice used on most tubes.
Splice is always placed opposite the valve stem to help balance the tube.
Used by those who want the very best.
120/100-18 FITS:
120/100-18
100/100-18
110/100-18
120/90-18
130/80-18
140/80-18 FITS:
80/100-21 FITS:
Check out all tyre accessories, workshop maintenance and workshop tools…