---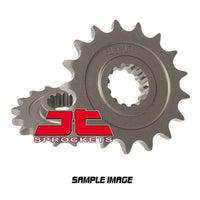 Sprockets - Front (JT) Steel Sprockets are manufactured using only the finest grade of C49 high carbon steel for the rear sprockets, and SCM420 chromoly steel alloy for the front sprockets. The JT Steel Sprockets range now contains over 2,500 parts for all motorcycles and ATVs.
Note: please check the fitment for each sprocket below.

Not sure which sprocket you need? Check by entering your bike details on the JT Sprocket Catalogue.

Fitment for JTF432.15SC (lightweight self-cleaning)
Beta

350 Jonathan  01-02
400 Alp 4.0  10-11
400 M4 Supermoto  10-11
   
Kawasaki Road

KLX400 A1 (KLX400 SR)  03
   
Suzuki Off Road

DR350 R,S,T,V,W,X (Off Road Version)   94-99
   
Suzuki Road

DR200 S- G,H,J,K,M  86-91
DR200 G,H,J USA86-88
DR200 S USA15-20
DR200 S L7,L8  17-18
DR200 S L9  19
DR200 SE-T,V,W,X,Y,K1-K9,L0,L1-L5  96-15
SP200 G,H,J USA86-88
DR350 SE-R,S  94-95
DR350 SE-T  96
DR350 SE-V,W  97-98
DR350 SE-X  99
DR350 SE-T,V,W,X USA96-99
DR-Z400 S-K1,K2,K3,K4,K5,K6,K7,K8,K9,L0-L9  00-19
DR-Z400 S USA20
DR-Z400 SM-K5,K6,K7,K8,K9,L0-L9  05-19
DR-Z400 SM USA20
DR-Z400 SM-K5,K6,K7,K8,K9 (Japan)SK44A 05-09
Fitment for JTF1901.12
KTM Off Road

250 Freeride F  18
250 Freeride F  20
300 EXC TPI Erzberg Edition Europe20-21
350 Freeride  16-17


Fitment for JTF1901.15SC (lightweight self-cleaning)
Husqvarna Off Road

KTM ATV

KTM Off Road

250 EXC Enduro Europe00-03
250 EXC Racing  04-06

300 EXC Enduro Europe00-03

380 EXC Enduro Europe00-02

400 EXC Racing Europe00-02

400 EXC Enduro Racing  03-11  
450 EXC Enduro Racing Australia10-12

450 EXC Enduro Racing Europe03-12

450 EXC Six Days Europe10-13

450 MXC Racing USA03-04

450 RR  14

520 EXC Enduro Racing Australia00-02  
520 EXC Enduro Racing Europe00-02

525 EXC Enduro Racing Europe03-07

525 MXC Desert Racing  05 
525 XC Desert Racing  07 
525 MXC Racing USA03-05

530 EXC  08-11

530 EXC Six Days  10-11

530 XC-W Six Days USA10-11
Fitment JTF1901.14SC (lightweight self-cleaning)
Beta

250 RR  05-12
250 RR 2T  18-21
300 RR 2T  17-19
300 RR 2T  20-21
400 RR  05-09
450 RR  05-09
525 RR  05-09

Beta


Gas Gas Off Road

250 EC   20-21
250 EC F  20-21
250 MC F  21
300 EC   20-21

Husaberg Off Road

FE250  13-14
FE501   13-14
FS570 Supermoto  10-11

Husqvarna Off Road

125 TE Europe14-17
250 FC  17-21
250 FE Europe16-17
250 FE Europe18-19
250 FE Europe20-21
250 FE Australia16-17
250 FE Australia18
250 FE USA17
250 FE USA18
250 TC  17-20
250 TC  21
250 TE Europe14-17
250 TE Australia16-17
250 TE Australia18
250 TE i 2-Stroke Europe18-19
250 TE i 2-Stroke Europe20-21
300 TE Europe14-17
300 TE Australia16-17
300 TE Australia18
300 TE i Europe18-19
300 TE i Europe20-21
300 TE I Jarvis Edition Europe20
350 FC  16-17
350 FC  18-19
350 FC  20-21
350 FE  14-17
350 FE  18-21
350 FE S USA16-21
350 FX  17-19
350 FX  20-21
450 FE  14-15
450 FE Europe16-17
450 FE Europe18-21
450 FE Australia16-17
450 FE Australia18
450 FE USA16
450 FE USA17
450 FE USA18-19
450 FR Rally  16-21
450 FS Europe16-17
450 FS Europe18
450 FS Europe19
450 FS Europe20
450 FS Europe21
501 FE  14-15
501 FE Europe16-17
501 FE Europe18-19
501 FE Europe20
501 FE Australia16-17
501 FE Australia18
501 FE USA17
501 FE USA18-19
501 FE USA20-21
501 FE S USA20-21

KTM ATV

450 XC  08-12
450 SX  09-12
505 SX  09-13

KTM Off Road

125 EXC Enduro Europe00
125 EXC Enduro Europe01-02
125 EXC Enduro Europe03
125 EXC Enduro Europe04-11
125 EXC Enduro Europe12-16
125 EXC Six Days  07
125 EXC Six Days  09-11
125 EXC Six Days  12-17
144 SX  08
150 SX Motocross  08-14
200 EXC Enduro  98-99
200 EXC Enduro USA00-05
200 EXC Enduro Europe00-11
200 EXC Enduro Europe12-16
200 EXC Enduro Australia00-11
200 EXC Enduro Australia12-16
200 EXC Enduro Australia00-03
200 MXC Enduro USA98
200 MXC Enduro USA99-04
200 SX  02
200 SX  03-06
200 XC  06-10
200 XC-W  06-16
250 EXC Enduro  91-94
250 EXC Enduro  96-98
250 EXC Enduro  99
250 EXC Enduro Australia00-03
250 EXC Enduro Australia12-17
250 EXC Enduro Australia18
250 EXC Enduro Japan00-03
250 EXC Enduro USA00-04
250 EXC Enduro Europe12-17
250 EXC Enduro TPI Europe18-20
250 EXC Enduro TPI  21
250 EXC Racing  02
250 EXC Racing  03
250 EXC Six Days  12-17
250 EXC Six Days TPI  18-20
250 EXC Six Days TPI  21
250 EXC-F Enduro  07-11
250 EXC-F Enduro  12-13
250 EXC-F Enduro  14-21
250 EXC-F Enduro CKD Brazl20
250 EXC-F Six Days Europe10-11
250 EXC-F Six Days Europe12-13
250 EXC-F Six Days  14-21
250 MXC Motocross  98-01
250 SX Motocross  97-03
250 SX Motocross  17-19
250 SX Motocross  20-21
250 SX-F Racing  15-21
250 SX-F Racing Prado  20
250 SX-F Troy Lee Designs  21
250 XC  07-14
250 XC-W TPI  19-21
250 Freeride  14-15
250 Freeride R  14-17
250 Freeride F  19
300 Enduro  90-95
300 EXC Enduro  95-97
300 EXC Enduro  98
300 EXC Enduro  99
300 EXC Enduro Australia00-03
300 EXC Enduro Australia10
300 EXC Enduro Australia12-17
300 EXC Enduro Australia18
300 EXC Enduro Japan00-03
300 EXC Enduro Europe12-17
300 EXC TPI Enduro Europe18-19
300 EXC TPI Enduro Europe20-21
300 EXC CKD Enduro Brazil20-21
300 EXC Six Days  12-17
300 EXC TPI Six Days Europe18-19
300 EXC TPI Six Days Europe20-21
300 EXC Enduro USA00-04
300 MX  90
300 MX  91-94
300 MXC Motocross  01-02
300 SX Motocross  96
300 XC  08-14
300 XC-W TPI USA20-21
300 XC-W TPI Erzbergrodeo USA20
300 XC-W TPI Europe19-20
300 XC-W Six Days TPI USA20
300 XC-W Six Days TPI Europe19
350 EXC-F  12-17
350 EXC-F Australia18-19
350 EXC-F Europe18-20
350 EXC-F CKD Brazil20
350 EXC-F USA18-21
350 EXC-F Six Days Europe12-21
350 EXC-F Six Days CKD Brazil20-21
350 SX-F  11-19
350 SX-F  20-21
350 XC-F USA11-12
350 XC-F USA16-19
350 XC-F USA20
350 XC-F USA21
350 XCF-W USA20-21
360 SX Motocross  96-97
360 EXC Enduro  96-97
380 EXC Enduro  98-99
380 EXC Enduro USA99-02
380 EXC Enduro Australia00-02
380 EXC Enduro Japan00-02
380 SX Motocross  98-02
380 SX Motocross USA99
400 EXC Racing USA00-02
400 EXC Racing Australia00-02
400 EXC Enduro Racing  01-02
400 MXC Racing  01-02
400 SX Racing  99-02
420 Enduro  81-83
420 MX  81-83
450 EXC Enduro Racing Australia03
450 EXC Enduro Racing Australia13-16
450 EXC Enduro Racing Europe13-16
450 EXC-F  17
450 EXC-F Australia18-19
450 EXC-F Europe18-20
450 EXC-F  21
450 EXC-F Factory Edition  10-11
450 EXC Six Days  14-16
450 EXC-F Six Days  17-20
450 EXC-F Six Days  21
450 EXC Enduro Racing USA05
450 MXC Racing USA05
450 Rally Factory Replica  15-21
450 SMR  04-07
450 SMR  08-14
450 SMR  21
450 SX Motocross Racing  03
450 SX Motocross Racing  04-06
450 SX-F  07-12
450 SX-F  13-15
450 SX-F Factory Edition  13-15
450 XC-F  08-09
450 XC-F  13-15
450 XC-W  08-11
495 MX  81-84
500 MX  85-87
500 MX  88-89
500 MX  90
500 MX  91-93
500 SX Motocross  95
500 EXC Australia16
500 EXC Europe13-16
500 EXC Six Days  13-16
500 EXC-F  17-19
500 EXC-F Six Days  17-19
505 SX-F  07-09
505 XC-F  08-09
505 XC-W  08
520 EXC Enduro Racing  99
520 EXC Enduro Racing  01-02
520 EXC Enduro Racing USA00-02
520 MXC Racing  01-02
520 SX Motocross Racing  99-02
525 EXC Enduro Racing Australia03
525 EXC Enduro Racing USA03
525 MXC Desert Racing  03-04
525 SMR  04-05
525 SX Motocross Racing  03-06
560 SMR  06-07
Polaris ATV

450 Outlaw S  08-10
450 Outlaw MXR  09-10
525 Outlaw  07
525 Outlaw IRS  08-09
525 Outlaw IRS 2 x 4  10-11
525 Outlaw S  08-10
Fitment for JTF1901.13SC (lightweight self-cleaning)
Beta

125 RR 2T 18-21

250 RR 2T  13-17
300 RR 2T  13-16
350 RR  11-12
350 RR  13-21
350 RR-S  18-21
390 RR  15-21
390 RR-S  18-20
390 RS  15-16
400 RR  10-12
400 RR  13-16
430 RR  15-19
430 RR  20-21
430 RR-S  18-21
430 RS  15-16
450 RR  10-12
450 RR  13-14
480 RR  15-19
480 RR  20-21
498 RR  12
498 RR  13-16
520 RR  10-14
GasGas
Husaberg
TE125  12-13
TE250  11-14
TE300  11-14
FE350   13
FE390 Enduro  10-12
FE450 Enduro  09-14
FX450 Cross Country  10-12
FE570  09-12
Husqvarna
125 TC  14-17
125 TC  18-19
125 TC  20-21
125 TE USA16-17
125 TX  17-19
150 TE USA17-19
150 TE i USA20-21
150 TE i Europe20-21
250 FC  14-15
250 FC  16
250 FE Europe14-15
251 FE USA14-16
250 TC  14-15
250 TC  16
250 TE USA14-18
250 TE i 2-Stroke USA18-19
250 TE i 2-Stroke USA20-21
300 TE USA14-17
300 TE USA18-21
300 TX  17-19
300 TX i USA20-21
350 FC  14-15
450 FC  14-15
450 FC  16-19
450 FC  20-21
450 FC Rockstar Edition  20
450 FX  17
450 FX  18-20
450 FX  21
501 FE USA16
KTM
125 Enduro  86-87
125 Enduro  88
125 Enduro  89
125 Enduro  90
125 Enduro  91-94
125 EXC Enduro  95-97
125 EXC Enduro  98-99
125 EXC Enduro USA00-03
125 EXC Six Days  08
125 LC2 Enduro  97-98
125 MX  88-89
125 MX  90
125 MX  91-95
125 SX Motocross  95-19
125 SX Motocross  20-21
125 XC USA21
125 XC-W  17-19
125 XC-W TPI  20
150 EXC TPI  20-21
150 SX Motocross  13-17
150 SX Motocross  18-20
150 SX Motocross  21
150 XC USA10-15
150 XC  16
150 XC-W  17-18
150 XC-W TPI USA20-21
250 Enduro  81-87
250 Enduro  88
250 Enduro  89
250 Enduro  90
250 EXC Enduro  95
250 EXC Enduro Australia10
250 EXC Enduro USA05
250 EXC Enduro Europe05-11
250 EXC Racing USA06
250 EXC Six Days  10-11
250 EXC-F Enduro Brazl15-18
250 MX  83-87
250 MX  88
250 MX  89
250 MX  90-95

250 SX Motocross  95

250 SX Motocross  04-16

250 SX-F Racing  06-12

250 SX-F Racing  13-14

250 SX-F Factory Edition  17

250 XC  15-19

250 XC TPI  20-21

250 XC-F  07-11

250 XC-F  12-19

250 XC-F  20-21

250 XC-W  10-16

250 XC-W  17

250 XC-W  18

250 XC-W TPI  18

250 XCF-W  10-11

250 XCF-W  12-15

250 XCF-W  16

250 XCF-W Six Days  11

250 XCW-E  08-09

250 XCW-F  07-10

300 EXC Enduro Europe04

300 EXC Enduro Europe05-11

300 EXC Enduro Brazil15-17

300 EXC Enduro Brazil18

300 EXC CKD Enduro Brazil19

300 EXC Six Days  10-11

300 EXC-E Enduro (from Dec '07) Europe07-08

300 EXC Enduro USA05

300 MXC Motocross USA03-05

300 SX Motocross  95

300 XC  15-19

300 XC TPI  20-21

300 XC-W USA10-19

300 XC-W Six Days USA15-18

350 Enduro  84-87

350 Enduro  88-89

350 EXC-F Six Days Brazil17-19

350 EXC-F Six Days CKD Brazil18

350 MX  89

350 XC-F USA13-15

350 XC-W USA12

350 XCF-W  13-16

350 XCF-W Six Days  14-16

400 XC-W USA10

440 MX  94

450 SX-F  16-19

450 SX-F  20-21

450 SX-F Cairoli  20

450 SX-F Factory Edition  16-19

450 SX-F Factory Edition  20

450 SX-F Factory Edition  21

450 XC-F  16-21

450 XC-W  12-16

450 XC-W ZA10

450 XC-W Six Days USA10-11

500 EXC Australia12-15

500 EXC Europe12

500 EXC Six Days Europe12

500 EXC-F USA20-21

500 EXC-F Six Days USA20-21

500 XC-W USA12-16

500 XCF-W USA20-21

530 XC-W ZA10
Maico
250 GS/MC  83

250 GME  86-87

500 GME  86-87

500 GS/MC  83