---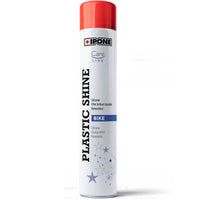 IPONE Plastic Shine is a Silicone based plastic renovating spray that gives a new and brilliant appearance to the plastics of your motorcycle.

IPONE Plastic Shine is a plastic renovating spray that is used without water. Spray IPONE Plastic Shine on a clean, cold vehicle or bike. The product leaves a durable glossy film on the plastics of your vehicle.
Features of the IPONE Plastic Shine
Plastic renovation
Silicone-based
Lasting and brilliant effect
Renovates dull plastics
Without damaging plastics
Effortlessly
Without traces or greasy layer
Make your motorcycle plastics look brand new again!
IPONE Plastic Shine is specially designed for motorcycle plastics. It spruces up and revives the plastic that became dull without damaging it or leaving traces or greasy layers.

Use it after cleaning your motorcycle with a microfibre wipe for a quick and effective finish without rinsing!

Check out all workshop maintenance and workshop tools.