---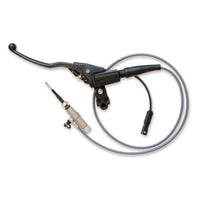 Honda CRF1000L Africa Twin 16-20 Magura Hydraulic Clutch Kit gives you a lighter and smoother clutch for your Honda CRF.

Fits: 2016-2020 Honda CRF1000L Africa Twin
Complete with all mounting hardware including CNC machined alloy mounting bracket.
New style 167 clutch master cylinder with spring-loaded, fold back, unbreakable style black clutch lever. Includes mirror mount bracket and clutch safety start switch.
Full of oil and ready to bolt on, replaces your old school cable and lever.
Carbon fibre hydraulic hose, ultra-strong forged lever, lighter clutch pull up to 30%, self-adjusting and self-modulating, the lever pull feels the same all the time.
Much nicer and lighter to use for technical riding when you are using a lot of clutch and throttle.
Reduce hand and arm fatigue and extend your riding time.
Made in Germany
Check out all our Clake controls, and all our clutch accessories.