---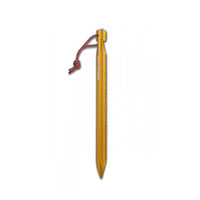 Our Y-Peg is exceptionally strong yet quite lightweight, and its "Y" profile gives both excellent penetration in hard ground and plenty of surface area for reliable hold in softer conditions. Both because of its shape and its durable, hardened aluminium body, the sturdy Y-Peg can be hammered into hard ground. Its bright, gold anodized colour makes it easy to see, and an attached string loop provides for easy removal.
Set of 10 pegs 
Length : 18cm / 7.1inches
Weight : 14 g / 0.5 oz
Check out all Hilleberg tents, Blackwolf tents, Redverz tents or camping gear repairs / fixes, as well as camp accessories, sleeping gear and cookware...