---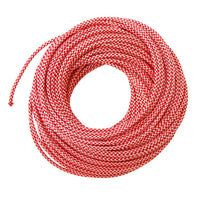 Hilleberg's proprietary 2 & 3 mm x 25 metre red and white guy line cord is strong, light and easy to see.

Its interwrap construction interweaves super-strong Vectran cord longitudinally with polyester, producing a cord with no sheath to slip, near zero stretch, minimal water absorption, an easy-to-handle soft feel, with high UV resistance.


A strong 60 kg (132 lb) breaking strength for the 2 mm and 80 kg (176 lb) for the 3 mm.
Check out our all tents, camping gear accessories and repairs / fixes…