---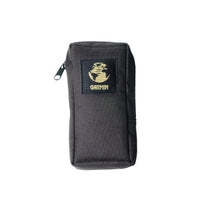 Garmin Universal Carrying Case provides, durable all-around protection for your handheld device with this black nylon carrying case. Wide zippered opening and belt loop provide accessibility and portability.
Size 7.4 inches x 3.0 inches x 1.4 inches (18.8 cm x 7.6 cm x 3.6 cm).
Check out all Garmin, Device Mounts or Navigation Accessories.
Garmin Universal Carrying Case Compatibility
GHC™ 10 Remote

GPS 72H

GPS 73

GPS 92™

GPS III Pilot™

GPSMAP® 60

GPSMAP® 62

GPSMAP® 62s

GPSMAP® 64

GPSMAP® 64csx

GPSMAP® 64s

GPSMAP® 64st

GPSMAP® 64sx

GPSMAP® 64x

GPSMAP® 65

GPSMAP® 65s

GPSMAP® 66i

GPSMAP® 66s

GPSMAP® 66sr

GPSMAP® 66st

GPSMAP® 76Cx

GPSMAP® 78

GPSMAP® 78s

GPSMAP® 78sc

GPSMAP® 79 Series

GPSMAP® 86i

GPSMAP® 86s

GPSMAP® 96

GPSMAP® 96C

Montana® 610

Montana® 650t

Montana® 680t