---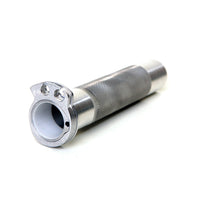 Product Code: G2-40-4BMW-136
 The Throttle Tamer incorporates a non-linear ratio between hand throttle rotation and carburettor or throttle body opening. By altering the conventional, circular shaped cam, a vast improvement in control is achieved.
The Throttle Tamer has a cam with a reduced radius initially, which requires a slightly farther rotation to achieve the same carburettor or throttle body opening position as a stock throttle.  This virtually eliminates the jerky "throttle snatch" especially evident in modern fuel injected street bikes.  The radius increases or "ramps up" after ½ throttle to keep overall rotation requires to reach full throttle at or near-stock rotation.  For most models, the Throttle Tamer includes a 400 style cam profile, but some will have alternative cam profiles.  The cam proven to be the best all-round solution for each model is used.
Machined from 6061 aluminium in the USA.
Self-lubricating Delrin bushings at each end of tube eliminate aluminium-to-aluminium contact and provide an ultra-smooth feel.
Included cam is removable and can be replaced with alternate cams (sold separately) to fine-tune control.
Fits inside the stock throttle housing to stock cables.
Works with all known aftermarket cruise controls.
Grips Not-Included.