---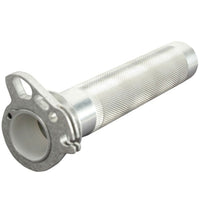 G2 Throttle Tamer 20-4X-2STR: Beta/KTM/Husky/Gas Gas/Honda.
Part Number: G2-20-4X-2STR

The G2 Dirt Tamer Throttle Tube for Gas Gas incorporates a non-linear ratio between hand throttle rotation and carburettor or throttle body opening. The pulley, or as we call it, cam pulls the throttle cable as the rider rotates the grip/tube. By altering the conventional, circular shaped cam, a vast improvement in control is achieved. For most models, the Throttle Tamer includes a 400 style cam profile, but some will have alternative cam profiles. The cam proven to be the best all-round solution for each model is used.

The G2 Dirt Tamer Throttle Tube has a cam with a reduced radius initially, which requires a slightly farther rotation to achieve the same carburettor or throttle body opening position as a stock throttle. This slightly longer pull makes a HUGE difference in control as the power is rolled on and the rider searches for traction. The radius increases or ramps up after ½ throttle to keep overall rotation requires to reach full throttle at or near-stock rotation.

G2 cams are interchangeable! You are never stuck with a ratio that is not correct for your skill or track condition! You can always go back to the stock ratio, quicker, or for most models several different progressive control ratios! Cams may be ordered separately, or consider the G2 Throttle Cam System that includes a tube and three cams – 100 (stock), 200 (10% smaller & progressive) and 400 (20% smaller & progressive).

Features of the G2 Throttle Tamer 20-4X-2STR: Beta/KTM/Husky/Gas Gas/Honda

Machined from 6061 aluminum in the USA!
Cams for most 2016 and newer models (with grey throttle housing) are machined from Delrin!
Self-lubricating Delrin bushings at each end of tube eliminate aluminum-to-aluminium contact and provide an ultra-smooth feel.
Included cam ratio varies per model based on best-suggested ratio for the machine's power characteristics.
Fits inside the stock throttle housing to stock cables.
Slide one of our Domino Grips (sold separately) or your grip unto the included Throttle Tube.
Removable end cap eliminates the need to cut the end of the throttle tube when using dirt bike handguards
Installs in minutes!

Fitment for the G2 Throttle Tamer 20-4X-2STR: Beta/KTM/Husky/Gas Gas/Honda
Beta 2 Stroke - ALL
KTM 2 Stroke - '97-'16
Husky 2 Stroke - '97'16
Gas Gas 2 Stroke - ALL
Honda CR125 / 250 / 500 - '89-'07