---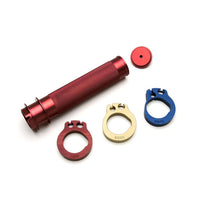 The G2 Throttle Cam System allows you to fine tune hand movement/rotation to what happens at the carburetor/throttle body. Why would you want to change this ratio? Imagine the cursor on your computer had only one speed with no adjustment. Chances are it would be annoyingly slow or so fast you would shoot past everything you wanted to click!

The system includes a "stock" ratio cam and two progressive cams that incorporate a non-linear ratio between hand throttle rotation and carburetor or throttle body opening. The "pulley" or "cam" pulls the throttle cable as the rider rotates the grip/tube. By altering the conventional, circular shaped cam, a vast improvement in control is achieved. For those who want something quicker, check out this Quick Turn Throttle!

The Throttle Cam System has cam options with reduced radius for the first ½ of throttle rotation, which requires a slightly farther turn to achieve the same carburetor or throttle body opening position as a stock throttle.  This slightly longer pull makes a HUGE difference in rider control as the power is rolled on.  The system comes with a "100CAM" – same as stock, "200CAM" – starts out 10% smaller than stock and "400CAM" – starts out 20% smaller than stock.  The radius of the 200CAM and 400CAM increases or "ramps up" to stock size at  ½ throttle to keep overall rotation required to reach full throttle at or near stock rotation.
G2 Key Points:
Machined from 6061 aluminum in the USA!
Self-lubricating Delrin bushings at each end of tube eliminate aluminum-to-aluminum contact and provide an ultra-smooth feel
Alternate cams to fine tune control sold separately
Fits inside the stock throttle housing to stock cables
Removable end cap for simple handguard installation
Installs in minutes!
Fitment
G2-40-215:

2014-2016 Yamaha YZ250F/FX-450F
2015-2016 Yamaha WR250F


G2-40-200D:
2008-2015 Yamaha XT250

2008-2009 Kawasaki KLX450R

2006-2008 Kawasaki KX450F

2005-2006 Suzuki RMZ450

2004-2015 Kawasaki KX250F

2004-2006 Suzuki RMZ250

2003-2012 Yamaha YZ450F

2003-2008 Yamaha WR450F

2001-2015 Yamaha TW200

2001-2013 Yamaha YZ250F

2001-2012 Yamaha WR250F

2001-2007 Yamaha XT225

2001-2002 Yamaha WR426F

2000-2002 Yamaha YZ426F

1998-2000 Yamaha WR400F

1998-1999 Yamaha YZ400F


G2-40-100:

2000-2022 Honda CRF250/450/R/RL/X/RWE/RX/R-S
G2-20-200D:

2013-2013 KTM 65 SXS

2013-2013 KTM 50 SXS

2012-2013 KTM 500 XC-W

2012-2013 KTM 500 EXC

2012-2012 KTM 500 EXC Six Days

2010-2014 KTM 150 XC

2010-2013 KTM 85 SX (19/16)

2010-2013 KTM 85 SX (17/14)

2010-2013 KTM 65 SX

2010-2013 KTM 50 SX Mini

2010-2013 KTM 50 SX

2010-2013 KTM 450 XC-W

2010-2011 KTM 530 XC-W

2010-2011 KTM 530 EXC-R

2010-2011 KTM 450 EXC-R

2010-2010 KTM 400 XC-W

2008-2015 KTM 150 SX

2007-2008 KTM 144 SX

2006-2013 KTM 300 XC-W

2006-2013 KTM 300 XC

2006-2013 KTM 250 XC-W

2006-2013 KTM 250 XC

2006-2013 KTM 200 XC-W

2006-2009 KTM 200 XC

2000-2007 KTM 250 SXS

2000-2007 KTM 125 SXS

2000-2001 KTM 125 EXE

1998-2005 KTM 250 EXC

1998-2005 KTM 200 EXC

1998-2004 KTM 200 SX

1998-2003 KTM 250 MXC

1998-2003 KTM 200 MXC

1998-2002 KTM 380 SX

1998-2002 KTM 380 MXC

1998-2002 KTM 380 EXC

1998-1999 KTM 380 EGS

1998-1999 KTM 250 EGS

1998-1999 KTM 200 EGS

1997-2015 KTM 125 SX

1997-2013 KTM 250 SX

1997-2007 KTM 125 EXC

1997-2005 KTM 300 MXC

1997-2005 KTM 300 EXC

1997-1999 KTM 300 EGS

1997-1999 KTM 125 EGS

1997-1998 KTM 125 Sting

1997-1997 KTM 360 SX

1997-1997 KTM 360 MXC

1997-1997 KTM 360 EXC


G2-20-100D:
1996-2015 Yamaha YZ250

1996-2015 Yamaha YZ125

1995-2008 Suzuki RM250

1995-2007 Suzuki RM125

1992-2007 Kawasaki KX250

1992-2005 Kawasaki KX125


G2-40-210D:
2009 Suzuki RMZ250

2008 Suzuki RMZ450

2008 Suzuki RMZ250

2007 Suzuki RMZ450

2007 Suzuki RMZ250


G2-40-315:
2016-2016 KTM 350 XCF-W Six Days

2016-2016 Husqvarna FE501S

2016-2016 Husqvarna FE350S

2014-2016 Husqvarna FE501

2014-2016 Husqvarna FE450

2014-2016 Husqvarna FE350

2014-2016 Husqvarna FE250

2014-2016 Husqvarna FC450

2014-2016 Husqvarna FC350

2014-2016 Husqvarna FC250

2014-2014 Husqvarna TC85 19/16

2014-2014 Husqvarna TC85 17/14

2014-2014 Husqvarna TC125

2013-2013 Husqvarna TXC310R

2013-2013 Husqvarna TXC250R

2013-2013 Husqvarna TC250R

2012-2016 KTM 500 XC-W

2012-2016 KTM 500 EXC Six Days

2012-2016 KTM 500 EXC

2012-2016 KTM 450 SX-F Factory Edition

2012-2016 KTM 350 XCF-W

2012-2016 KTM 350 XC-F

2012-2016 KTM 350 EXC-F

2012-2012 KTM 350 Freeride

2012-2012 Husqvarna TXC 310

2012-2012 Husqvarna TC310

2011-2016 KTM 350 SX-F

2011-2013 Husqvarna TC449

2011-2012 Husqvarna TXC 511

2011-2011 KTM 990 Adventure Dakar Edition

2011-2011 Husqvarna TXC 449

2009-2014 KTM 690 Enduro R

2009-2012 KTM 990 Adventure R

2008-2012 Husqvarna TXC 250

2008-2011 KTM 690 SMC

2008-2011 KTM 530 XC-W

2008-2011 KTM 530 EXC-R

2008-2011 KTM 450 EXC-R

2008-2011 Husqvarna TXC 510

2008-2011 Husqvarna TXC 450

2008-2009 KTM 505 XC-F

2008-2008 KTM 690