---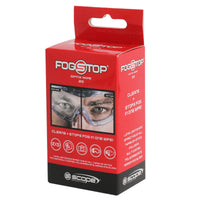 These Fog Stop Optix Wipes clean and stops fog on your sunglasses or visor in one wipe. Long lasting and effective on all types of optics including multi-coated, polycarbonate, mirror and glass. The Fog Stop Optix Wipes come in a box of 20.
Unlike other wipes, FOGSTOP OPTIX WIPES are specifically formulated to effectively clean and stop fog in one wipe. Comprised of highly advanced anti-fog properties impregnated with a combination of non-toxic cleaning and polishing agents, these convenient, individually wrapped pre-moistened wipes are suitable for use on all kinds of eyewear including safety glasses, goggles, visors and hard surfaces such as mirror and glass.
Features of the Fog Stop Optix Wipes
Advanced formula
One step application
Long lasting
Anti-static
Alcohol free
Non-toxic/non flammable
Individually wrapped
Benefits of using these specialised glasses/lens wipes
Cleans and defogs in one product

Quick and easy

Up to 3-5 days depending on work conditions

Repels airborne dust particules

Suitable for use with all lens coatings

Safe to use

Convenient and ready to use
These wipes are suitable for use on...
Safety glasses

Prescription glasses

Goggles

Face shields

Visors

Glass

Mirrors
View the Fog Stop Optix Wipes Data Sheet.
Check out all eyewear available.