---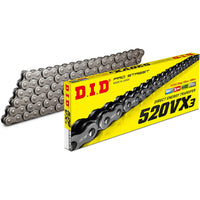 DID 520VX3 Chains provides excellent throttle response thanks to DID's Direct Energy Transfer, and a much longer chain life.

Features of the DID 520VX3 Chain



An upgraded chain from the D.I.D. 520 VX2 chain
New "Direct Energy Transfer" gives you an amazing throttle response due to D.I.D. State-of-the-Art technology to increase the chain's rigidity
The New 520VX3 chain will fit a wider range of motorcycles: 125cc - 800cc
Longer chain life - the 520VX3 has a greatly improved seal performance due to increased X-Ring retention and durability
Clip style masterlink included
Check out all workshop maintenance and workshop tools.