---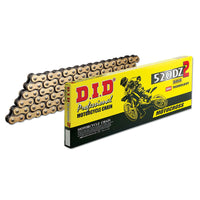 DID 520DZ2 MX Chain is budget-friendly, high-performance racing chain designed specifically with local motocross champions in mind. 
Designed to meet the demand of even the most grueling MX tracks using DID patented SDH technology  for a longer life chain.
Fitment for the DID 520DZ2 MX Chain

520DZ2 450cc max 
Non O-Ring           

Check out all workshop maintenance and workshop tools.