---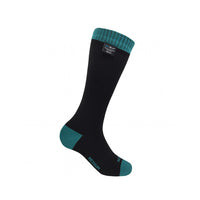 The DexShell Wading Sock is a knee-length waterproof sock with a DexShell-engineered in-cuff sealable portion. The in-cuff seal stops the water from splashing into the top of the sock, making the sock ideal for canoeing, kayaking, fishing, hunting and those activities where there is a need to wade in deep water.  

Wet feet are a thing of the past with DexShell's 100% waterproof socks. DexShell's revolutionary technology means that being 100% waterproof doesn't mean you have to compromise on breathability either. The patented Porelle membrane that blocks water molecules getting through also wicks sweat away, leaving your feet dry and comfortable at all times.

DexShell's 100% Waterproof socks have a unique 3 ply construction to give you the ultimate in comfort and warmth.

Features of the DexShell Wading Socks

3-ply construction
Outer Shell - a protective layer constructed from abrasion-resistant materials that make the sock both durable and easy to drip-dry.
Porelle Membrane - a hydrophilic membrane that blocks water droplets getting into the sock, but escorts water vapour molecules (sweat) out.
Inner sock - constructed from materials that offer warmth and comfort against your skin.


  Check out all our waterproof socks, and waterproof gear.