---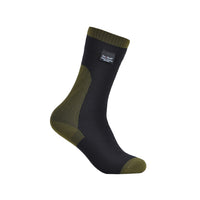 DexShell Trekking Socks have been specially developed for tramping in arduous, wet environments. A mid-calf, mid-weight merino wool sock.

Features of the DexShell Trekking Socks

DexShell's 100% Waterproof socks have a unique 3 ply construction to give you the ultimate in comfort and warmth.
3-ply construction:
Outer Shell 

A protective layer constructed from abrasion-resistant materials that make the sock both durable and easy to drip-dry. 
97% abrasion-resistant nylon, 2% elastane, 1% elastics

Porelle Membrane 

A hydrophilic membrane that blocks water droplets getting into the sock, but escorts water vapour molecules (sweat) out.  A high performance waterproof, breathable membrane

Inner Sock 

Constructed from materials that offer warmth and comfort against your skin.
40% merino wool,  40% anti-piling acrylic,  20% nylon


100% Waterproof - Keeps your feet completely warm and dry
Breathable - Wicks sweat away from your feet
Close-fitting - Fits snugly and comfortably
A

 

mid

-calf, mid-weight merino wool sock - Merino provides superb heat retention


  Check out all our waterproof socks, and waterproof gear.