---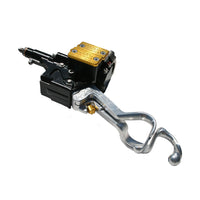 Clake Two (Dual Control) will enable every motorcycle rider to ride faster with greater safety!

The Clake Two allows the rider to actuate the rear brake totally independently from the clutch and visa versa.
It achieves this by means of its patent-pending unique lever design that permits the levers to be actuated independently yet still be on the same plane.
THIS IS THE MOST ERGONOMIC, POWERFUL, SEPARATE LEVER LHRB SYSTEM AVAILABLE IN THE WORLD!
Features of the Clake Two Dual Control

The inside lever operates just the clutch utilizing our unique force balancing system, giving you the ultimate combination of ultralight single finger clutch action with unmatched feel.
The outside lever actuates the rear brake and you also have the ability to have this lever automatically actuate the clutch if desired.
The amount of clutch actuation you get from the brake actuation is easily adjusted by means of the on the fly adjuster.
You can have no clutch actuation at all, enough to act like a slipper clutch or to prevent stalling from rear brake lock and everything in between.
All the major components are C.N.C machined from billet high-grade aluminium alloys, including the levers that are made from tough billet 6061 and fold out to prevent damage.
The Clake's functions Brake, Clutch, and Clutch Assist are all controlled by changeable profiled cams allowing the unit to be tuned to suit almost any motorcycle or rider preference.
The  Clake Two Dual Control allows you to retain the bikes rear brake pedal. This system enables the rider to operate the motorcycle exactly the same as a normal, but also have the ability to actuate the rear brake with ease from the handlebars.

The Clake One, Two and Pro Lever both have the option to run a unique dual control system that offers the ability to seamlessly swap from hand to foot rear brake activation whilst maintaining consistent brake pressure and perfect feel.
If you plan on using both hand and foot operation this system is without the best available both in terms of transition between modes of operation and outright braking power and feel.


What's Included:
1 x Clake Dual Control unit
1 x Braided brake line from Clake to the rear calliper
1 x Braided brake line from foot brake to Clake
6 x Copper washers for brake banjo bolts
1 x Banjo bolt for Clake brake line
2 x Clake bike stickers


Check out all our Clake controls, and all our clutch accessories.