---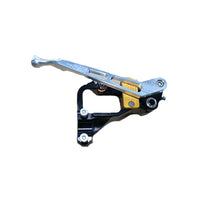 The CLAKE SLR – Dual Control Kit - S.L.R (Staggered Lever Retrofit) will fit any bike that runs a Brembo PS10 clutch master cylinder, this includes most bike models as follows:
KTM / Beta / GasGas
A lot of models of Husqvarna, Husaberg, TM, and many others
The Clake is suitable for bikes with Standard Clutches or those fitted with Auto Clutches such as the Rekluse.
This product is specifically designed for motorcycle use and is not a rebadged bicycle part, it has an FIM race legal ball ended lever and a decent sized fluid reservoir.
The CLAKE SLR has far better ergonomics, offers much more power and feel than any other separate master cylinder left-hand rear brake system on the market. It also allows room for most STD switch blocks and is the neatest most compact system available.
All of its major components are CNC machined from billet 6061 aluminium including the lever which pivots on high quality sealed ball bearings. The lever can be easily adjusted for reach and folds out to prevent breakage.
With the CLAKE SLR, you also have the option of swapping the lever functions (with the use of the optional hose kit) so as to have the SLR lever operate the clutch and the Brembo lever actuate the rear brake.


Clake SLR – Dual Control Kit Advantages
Bolts onto a Brembo clutch master cylinder.
F.I.M legal ball ended lever, safer and race legal.
The neatest most compact separate hydraulic master cylinder lhrb available.
All major components machined from billet 6061 aluminium including the lever.
More superior lever ergonomics, due to being specifically designed for this application
With the addition of an adaptor line, the lever functions can be swapped so that the top lever is the clutch.
The best switch block clearance due to the unique piggyback handlebar clamp design.T
Large capacity reservoir so you won't run out of brakes just because you're brake pads have worn slightly.
Optimised leverage ratio for sensational braking power!
Sealed ball bearings on lever pivot for precise braking feel.
Quality Teflon lined braided brake hose not some cheap plastic line.
Adjustable lever reach.
12-month full Warranty
What's In The Box:
1 x Clake SLR Dual Control unit
1 x Braided brake line from Clake SLR to the foot brake
1 x Foot Master Cylinder adaptor, (Brembo or Nissin)
4 x Copper washers for brake banjo bolts
1 x Banjo bolt for Clake brake line
2 x Clake bike stickers
Check out all our Clake controls, and all our clutch accessories.