---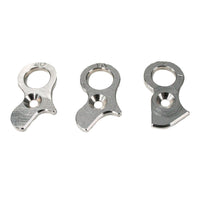 Clake Cams allow you to tune your CLAKE to perfection! Stainless steel cams for tuning the CLAKE One, CLAKE Two and CLAKE Pro Lever cams are sold individually for clutch, clutch assist and brake. You can completely customize the CLAKE lever position and feel by changing the cams, higher or lower depending on what you want to achieve.
Features of the Clake Cams

You can achieve more aggressive or progressive braking depending on your riding style
You can achieve a fast or slow progressive engaging clutch

Not sure what you need? Email us and we will see what we can do!

Check out all our Clake controls, and all our clutch accessories.