---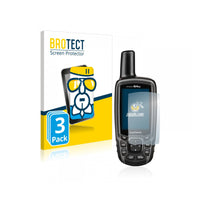 BROTECT AirGlass Screen Protector for Garmin GPSMAP62, 64, 65 series GPS is a flexible glass screen protector. Bubble-free installation + anti-fingerprint layer! Ideal for adventure riders looking to preserve the life of their screens
BROTECT AirGlass Premium Glass Screen Protector, the Extra-Hard and Ultra-Light mate for your Garmin GPSMAP 62, 64 and 65 series
This glass mate BRO is new in Europe and contains an exclusive and revolutionary technology in screen protection - AirGlass, exclusively offered by BROTECT!
At 0.3mm It is 2 x thinner and lighter and therefore more flexible than all the other glass protectors on the market. And it still offers the extra strong anti-scratch hardness of glass protectors.
Its Ultra-Light properties and High-Transparency ensure you have a clear and sharp view of all the screen content, while providing a unique touch-screen sensitivity.
The BRO has an additional Anti-Fingerprint layer that prevents dirt and fingerprint smudges and ensures that they can be easily removed.
The adhesive layer ensures that the BRO glides smoothly onto your Garmin GPSMAP 64st for a bubble-free and easy installation.
The mate for your Garmin GPSMAP 64st is manufactured with care by our specialist team in Germany.
P.S.: Our BRO is made of real glass and yet flexible! Convince yourself: Fold the remaining piece of AirGlass on the carrier film. 
Product Content:
3x BROTECT AirGlass Glass Screen Protectors


Garmin GPSMAP62, 64, 65 series BROTECT AirGlass Screen Protector Compatibility
GPSMAP62, GPSMAP62s, GPSMAP64, GPSMAP64s, GPSMAP64csx, GPSMAP64x, GPSMAP64sx, GPSMAP65