---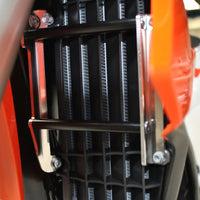 The AXP AX1449 Husqvarna / KTM 2017-2019 Radiator Braces are premium radiator guards that offer excellent protection by wrapping a protective cage around the radiator and original air deflector via a 3 point mounting system.
AXP Racing produces the best quality protection products on the market. AXP Racing radiator cages stand out thanks to their 3 point fixing system. This system keeps the original air deflector, it does not interfere with the maximum steering of the handlebar and forms a real protective cage around the radiators.  

Features of the Husqvarna / KTM Radiator Braces

Aluminium 4mm thick
Compatible with a fan
The complete hardware is included in the package
Black Spacers
Part No AX1449A
Husqvarna / KTM Radiator Braces AX1449 Compatibility
Fits on
2017 - 2022 Husqvarna TC125-TC250-FC250-FC350-FC450-TX300-FX350-FX450-FE250-FE350-FE450-FE501-TE250I-TE300I -
2017/2022 KTM 125SX-250SX-250SXF-350SXF-450SXF-250EXCTPI-300EXCTPI-250EXCF-350EXCF-450EXCF-500EXCF-350XCF-450XCF
If you're unsure if this is the right item for your bike, send us an e-mail with your bike's make and model and we'll let you know!
Check out all our radiator braces/guards, crash protection, bash plates, engine covers, handguards, swingarm protection and guides/protectors.