---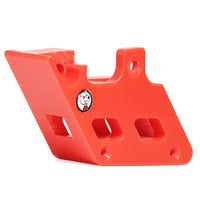 AXP Beta Chain Guide (Red) 125-500RR 2022-23 AX1603 protects and prolongs the life of your Beta's chain.

The Beta 125RR / 200RR / 250RR / 300RR / 350RR / 390RR / 430RR / 480RR / 500RR Chain guide.  Made of UHMW plastic for extreme resistance, the AXP chain guide will increase the protection and durability. It's design in two separated blocks allow it to be fitted and removed without opening the chain. Weighs 400grams.

All necessary parts for assembly are included. Please ensure to check the year of your bike.

Compatibility for the Beta 125-500RR Chain Guide AX1603

2022-23 Beta 125RR

2022-23 Beta 200RR
2022-23 Beta 250RR
2022-23 Beta 300RR
2022-23 Beta 350RR
2022-23 Beta 390RR
2022-23 Beta 430RR
2022-23 Beta 480RR
2022-23 Beta 500RR
Check out all our crash protection, bash plates, engine covers, handguards, swingarm protection and guides/protectors.