---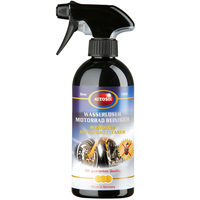 AutoSol Waterless Motorbike Cleaner (500ml) is a fast and easy way to clean light dirt from hard surfaces. No pre-washing required. The cleaning agent effectively loosens soil, dust and road dirt. It efficiently cleans lacquer, plastic, synthetic leather, (acrylic-)glass and metal. No additional water needed.
Phosphate-free and material compatible.
Check out all workshop maintenance and workshop tools.