---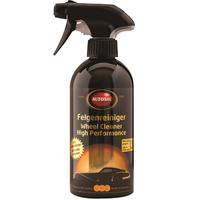 Autosol High-Performance Wheel Cleaner easily removes even stubborn dirt such as burned-in brake dust, residues from rubber and tar plus other street dirt.
Autosol High-Performance Wheel Cleaner is safe to use on all steel and light metal alloy wheel rims and hubcaps. It also creates a nonstick effect making future cleaning easier. It is acid-free and does not attack either the surface of the wheel rim nor the wheel bolts. It's colour changing action allows users to see the process where the dirt is getting removed.

Check out all workshop maintenance and workshop tools.