---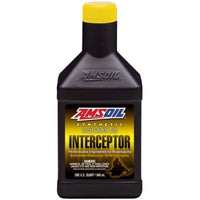 Amsoil Intercepter Synthetic 2-Stroke Oil is a high-performance 2-stroke oil with an emphasis on exhaust power valves. Contains high levels of detergent additives to prevent valve sticking. Replaces manufacturer-branded oils. Injector use or 50:1 premix. Excellent in snowmobiles, motorcycles, PWC, ATVs and jet boats.
Features of the Amsoil Intercepter Synthetic 2-Stroke Oil

946ml

Excellent for all two-stroke
snowmobiles
Prevents piston ring & exhaust
power valve sticking
Exceptional cold-temperature
fluidity (-69°F [-56ºC] pour point)

Outstanding performance in
DFI engines

Protects against wear

Low smoke and odor

Helps prevent plug fouling
View the Amsoil Intercepter 2T Oil Data Sheet.

Check out all workshop maintenance and workshop tools.