---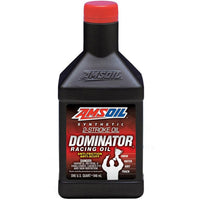 Amsoil Dominator 2 Stroke Oil has been engineered to protect high-performance two stroke engines.

This complex blend of oils and additives directly addresses the heat, pressure and friction of race-engineered engines. These engines operate on the edge, yet engine reliability is critical. DOMINATOR does an outstanding job protecting high-performance engines. It adds durability that professional racing teams depend on and delivers confidence so engines can be pushed to the limit.

Features of the Amsoil Dominator 2 Stroke Oil

Excellent film strength for high heat, high-rpm motors
Anti-friction formula for maximum power
Burns clean; helps prevent ring sticking and plug fouling
Protects coated and non-coated racing pistons
Check out all workshop maintenance and workshop tools.