---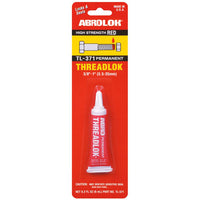 The Abrolok Threadlok high-strength permanent adhesive is a high-strength formula for locking in place studs, bolts, fittings, or fastenings that do not require disassembly. It takes only 24 hours to reach full strength and resists both vibration and most chemicals.
Features of the Abrolok high-strength permanent Threadlok
6ml / 0.2oz
Will not crack or migrate
Full strength within 24 hours
Resists most chemicals
Vibration-proof
For use on mounting studs, transmissions, automotive suspension bolts, engine fittings, or anywhere to eliminate double nutting or welding


Check out all our Abrolok products, Workshop Tools or Maintenance supplies.