---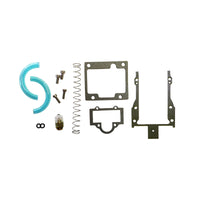 36-40mm SmartCarb Billet Rebuild Kit for yearly maintenance. Technology Elevated highly recommends that SmartCarb owners perform yearly maintenance on their SmartCarbs including a thorough cleaning, inspection for damage and wear, and the replacement of service parts.
Yearly maintenance ensures that the SmartCarb is working at its optimum performance and replacing service parts guards against normal wear and tear that can cause fuel leaks or other running irregularities.  
The 36-40mm Billet Rebuild Kit contains the recommended replacement service parts for all 36-40mm Billet model SmartCarbs.

Parts Included with the 36-40mm SmartCarb Billet Rebuild Kit

2 replacement Vent Tubes
2 Fuel Nozzle O-Rings
Throttle Return Spring
Cap Gasket
Bowl Gasket
Body Gasket
3.5mm high-flow Needle & Seat
2 Cap Screws
2 Bowl/Body Screws

View all SmartCarb.