---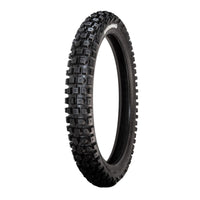 Goldentyre GT-823KH 90/90-21 Tyre handles brilliantly and quietly on tarmac but is also capable of tackling off-road terrain. The large block style pattern offers a large contact area for tyre longevity, while still having adequate block spacing to provide off-road performance.

Features of the Goldentyre GT-823KH 90/90-21 Tyre
Front and rear tire homologated FIM born to the big rally raid.
Specially designed and developed, provides excellent traction in all ground conditions.
The polygonal blocks set the arrow on the shoulder, they offer an exceptional acceleration and traction when cornering.
The carcass and the compound have been designed to withstand the severe stresses of the competitions of the great classics African rallies.
Motomox import only the best range of dirt and adventure bike tyres in New Zealand.

Goldentyre has the best tyre technology on the market!

Check out Goldentyre or all tyres.
Not sure if this tyre's for you? View our Tyre Guide.